My station is designed primarily for SO2R .  Feeding each band separately on the Force 12 multi-monobanders gives me some added flexibility over the standard 'tri-band' single feed technique.  And certainly the band pass filters and the coax stub filters installed on each band's feed line have been a benefit in allowing simultaneous multi-band operation.
Main Station
Dell Optiplex PC, Windows 7 using dual 23″ widescreen monitors
N1MM+ logger
SO2R with microHAM MK2R+
LP-100A Digital Vector RF Wattmeter with dual coupler option
A pair of FT-1000MP, both fully loaded with filters and Inrad mods, included roofing filter.
Both rigs use ICE 419B band pass filters
Left rig has Top Ten Band Decoder to automate band pass filter and antenna selection
Antenna switching & stack selection via ArraySolutions SixPack and StackMatches x 4
Receive antenna switching via Ameritron RCS-8V
Transmitting Antenna available at both rigs:
160 meter dipole at 105 ft
160 meter Inverted-L 75′ high 100′ wide, 40 buried radials 125′ long
80 meter dipole at 75 ft
80 meter shunt fed tower (120 ft tower with stacked Yagis, 40 buried radials 125 feet long)
40 meters 2/2 at 116/52 ft
20 meters 3/3/3 at 116/85/52 ft
15 meters 4/4/4 at 116/85/52 ft
10 meters 7/7/7 at 116/85/52 ft
Receiving Antenna available at both rigs via home-brew Magic-T splitter. Transformers home-brewed based on W8JI design. Wire is 17ga electric fence wire. Height ranges from 9 to 11 ft.  Switching via Ameritron RCS-8V:
580 ft beverage at 45 degrees (Europe)
480 ft beverage at 90 degrees (Africa)
800 ft beverage at 270 degrees (VK/ZL)
480 ft beverage at 315 degrees (Japan)
Coax Stub Filters installed at SixPack on antenna ports. Coax is mix of RG-213 & JefaTech LL400. Measured with AIM 4170:
10 meters – CS-6 (1/2 WL-open 10m) & CS-4 (1/2 WL-open 20m)
15 meters – CS-3 (1/4 WL-shorted 40m)
20 meters – CS-4 (1/2 WL-open 20m) & CS-5 (1/4 WL-shorted 20m)
40 meters – CS-3 (1/4 WL-shorted 40m) & CS-7 (1/2 WL-shorted 15m)
80 meters – CS-1 (1/4 WL-shorted 80m)
160 meters – CS-9 (1/4 VL-shorted 160m)
Amplifiers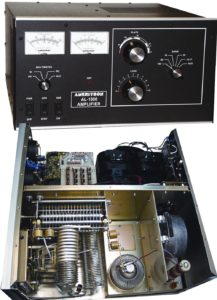 Left rig => AL-1500
Right rig => AL-1200
Multiplier rig => AL-811
Multiplier station
IC-756Pro2
Lightning Bolt quad for 10/12/15/17/20 meters at 45 ft on Tower #3
IC-2100 with 5/8 wave J-pole at 45 ft for 2 meter FM use
Home-brew Icom ProData sound card interface (From QST March 2003)
Manually moving coax jumpers allows use of antenna not in current use at main station.
UPDATE! Jan 14 2011
K3 #0251 now in the shack.  I don't know where it will wind up in the mix – I'll have to use it and evaluate my preference between the K3, 756Pro2, and 1000MPs.  Only then will I know how I'll integrate it into the station.
It has 2.8, 2.1, 1.8, 400 & 250 filters in it.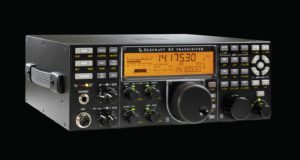 Etc …
Like most hams, I'm always gathering pieces and parts. Here's the list of what is gathered that is not yet in service.
(1) Tic Ring Rotor model 1022D
An additional 200 feet of Rohn 55G for future Tower #2 and #3 with associated EHS and guy hardware
(1) KLM KT36XA (as of 05/02/09, on tower at K5ER as a loaner)
(1) M2 KT34XA
(1) KLM 'Big Stick' 6-element for 15 meters (acquired 11/13/10)
2nd & 3rd SixPack
5th & 6th StackMatch
Over 1,000 feet of 1/2″ Andrews hardline
Over 2,000 feet of 1/2″ Commscope hardline
20 ground rods, 10 feet by 5/8″
2 large NEMA electrical/grounding boxes for weatherproof enclosures