After nearly 10 years, I decided to change the layout of the 3rd and 4th positions in the shack. The mult station had been under the stairs, the the 3rd station on a very small table. Additionally, all 4 computers were replaced. And I decided to identify the stations by letter, from left to right, rather than by number.
I've had a Mackie 1202-VLZ Pro sitting on a shelf for years. For Christmas 2018, I bought a gift for myself – a pair of powered JBL Control 2P monitor speakers, and integrated the mixer and the speakers into the shack. Connected the K3 at A, the K3 at B, and the computer at B (my main single op and "work" computer) to the mixer. This has really improved my enjoyment of shack time. I can listen the the bands without being tethered to headphones; I can listen to music from my computer; shack guests can hear the action; the list goes on. I've told some of my ham friends that this single change has had a bigger impact on my shack time enjoyment than anything else I've ever done!
At position A, I added a vertical dual monitor stand. The EA4TX interlock will sit on a shelf between position A and position B. The desk remains unchanged.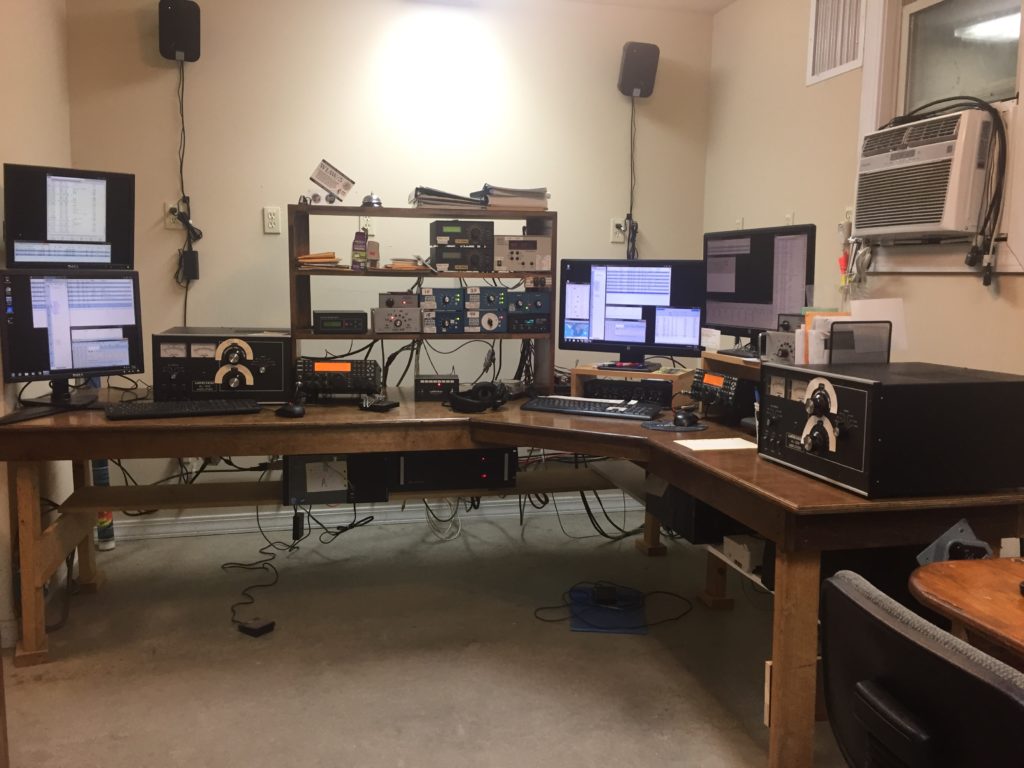 It was a different story at the other end of the shack. I had a desk that my father had built for me when I was in 4th grade. It was somewhat custom built for a old 19-inch black-and-white TV, my Commodore Vic 20 computer, and an Atari 2600. I replaced the table top when I became a ham, making it longer and deeper. A removable hutch on top was still functional. Letting go of some sentiment, I took the desk out of the shack, but kept the hutch to use on the table top under the stairs.
Several years ago, after I custom-built my L-shaped desk for A and B, my friend WW5RC (ex:KC5WA) had me build a nearly identical desk for him. He recently moved into a retirement apartment, and had to downsize. He offered me first refusal on the desk I built. So, with a modification to utilize what I needed, the desk built by me returned home for position C and position D.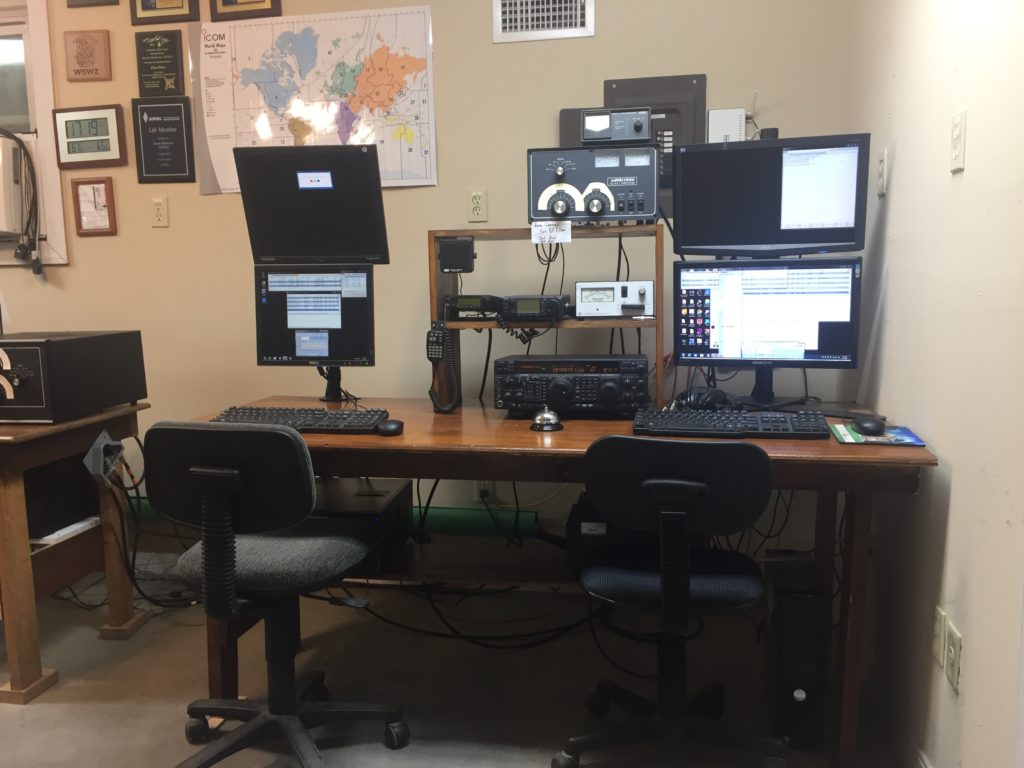 Dual vertical monitor stands were added, and new computers also installed. An Astron RS-70M supplies power.
I think the next remodel project will be to epoxy the floor- the bare concrete is constantly dusty and gritty.