09/25/10 — Finished the last of my 4 beverage antenna by installing the wire for Europe. Worked on a sticky relay in the antenna switch. Cleaned up the shack a bit, as a first step toward the CQ WW group's arrival late next month.
09/20/10 — Built a Magic-T splitter for the beverage antenna system. Installed an A/B relay to select either the 80m dipole or 80m shunt fed-tower. Replaced the RF bypass capacitors in a lightning damaged SixPack.
Went through my paper QSL cards to update my DXCC totals, and found several new ones that I will send to ARRL HQ.
09/16/10 — Completed tuning the 80 meter shunt feed. My goal was to have it resonant at 3.6MHz. I think I was pretty successful with the tuning. The shunt wire is spaced 36 inches from the tower, and the shorting bar is about 27 feet up.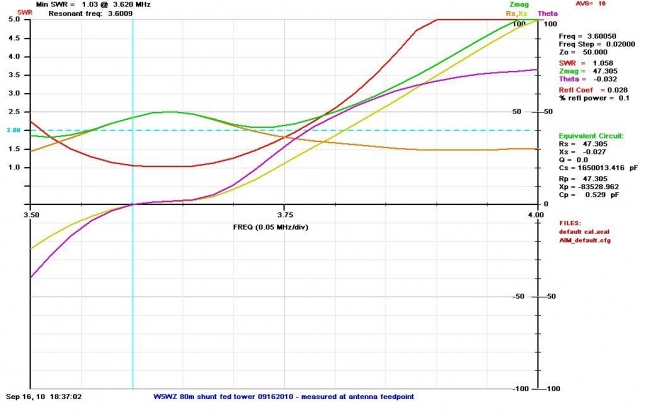 09/11/10 — Installed the permanent shunt feed system on the tower. Built the necessary standoffs to mount the vacuum variable cap in the tuning box. Assembled everything with copper strap for low inductance. Silver soldered 4″ copper strap to the ground ring at the tower base and connected to the base of the tower as well as the coax shield on the shunt feed. Used an AIM 4170c to get baseline readings. It looks like I need to raise the shorting bar about 12 to 15 inches up the tower. It will have to wait until next week.
09/10/10 — Completed the beverage at 270 and 315 degrees. Installed antenna switch at central beverage switching point. Installed F connectors, and hooked up a receiver. Gave it a try. Heard BU2AQ at 1045 UTC on 80m. Could not even discern any signal there if listening on the transmit dipole at 75 ft.
09/06/10 — Continued to work on beverage antenna system. Figured out a way to also have a 480 ft beverage at 90 degrees. Set more 4×4-12 ft posts. Built 4 transformers using the W8JI design. Buried feed line to all 4 beverage feed points. I sure like the radial burying plow! It is coming in very handy!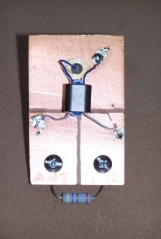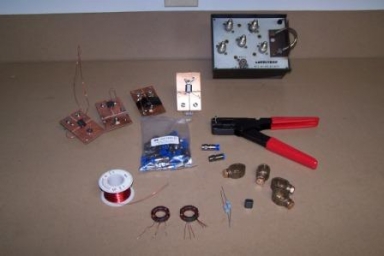 09/05/10 — A very pleasant surprise! KG5VK paid me a visit this afternoon. As a first-time visitor, I gave him the nickel tour. Then we talked multi-op strategy. I've got several items to do in and around the station now!
09/04/10 — Began the expansion of my beverage antenna system. Set several 4×4-12 ft posts. Strung 800 ft beverage at 270 degrees and 485 ft beverage at 315 degrees. Cleared underbrush to extend former 285 ft with goal of at least 500 ft at 45 degrees. Still have to construct the transformers and place the ground rods at both ends of each beverage. Used my radial plow and buried feedline & control wires from shack to central beverage switching point.
With help from K5RUS, we also worked on shunt feed on tower for 80m. Still in experimental mode – we did locate the approximate feed point and determined approximate capacitor value. Now I'm ready to build the final tuning assembly and secure the shunt wire more securely to the tower.
Also sanded and applied 2 coats of polyurethane to desktop for multiplier operating position. Replaced feedline from multi position to antenna switch shed.
08/30/10 — Finally repaired my TopTen Band Decoder/Yaesu with source driver mods. It was damaged in the May 2009 lightning fiasco. I just had not made it a priority. It is now on Radio 1 (left), and automatically switches the ICE 419 bandpass filter between the FT-1000MP and AL-1500, and the SixPack for antenna selection.
08/28/10 — Finished burying radials this morning, with a total of 40 radials, most about 125 feet long. A few had to be shorter. In all, used 5,000 feet of wire. Silver soldered the radials to the ring of #4 solid copper wire around the base of the tower. Installed the shunt wire up the tower to 75 ft, and put the shorting bar at 36 ft. Now I have to build the tuning network and put in a weatherproof box.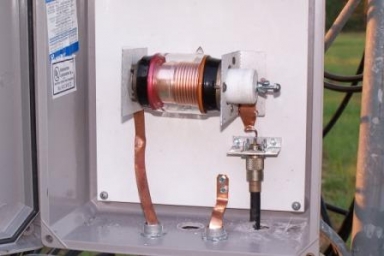 08/26/10 — Buried another 16 radials this afternoon.
08/25/10 — Began burying 1/4 wavelength (~125 ft) radials around my 120 ft tower. Got 14 done (1,750 ft of wire). I'm installing 36 radials, 10 degree spacing. The ends of the wire are 21.6 ft apart. The goal is to shunt feed the tower on 80m and 160m. This project began with the purchase of 5,500 ft of 12 gauge solid THHN wire and 2 vacuum variable caps at Dayton in May.
08/23/10 — Modified my middle-buster plow to be a radial/cable burying plow, complete with wire roll holder and dispenser tube. It only took about 2 hours .