During 2017 ARRL Sweeps SSB, we noticed that one of the FT-1000MPs had gone deaf on the receive antenna. During SS, this radio was on 40/15, so not having the beverage receive antennas available was not critical.
So, the night following the contest, I popped the top cover off, and removed the RF board. It only took a couple of seconds to identify 3 broken solder joints that hold the RCA connector on the board.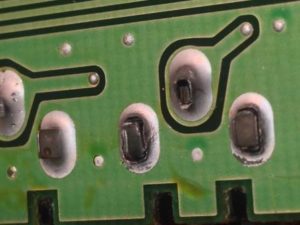 Within 15 minutes, the connections were repaired, the radio reassembled, and tested on the air. Easy fix!