3/28/09 — Pulled and pushed six runs of 1/2″ hardline through the 200 feet underground 4″ conduit to tower. Modified telco pedastal box to support StackMatches. Prepared 4″ conduit between pedastal and tower. Mounted 3/4″ plywood backer on wall at feedline distribution point.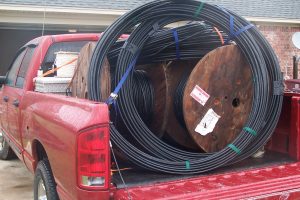 3/25/09 — Acquired another 2,000 feet of 1/2″ hardline. Now I can put unbroken runs from the shack to the tower. I have decided to mount the StackMatches at ground level at the base of the tower. Also acquired 1,000 feet of 4-18AWG with tape and braid shield to use as control wiring.
3/14/09 — Gave a presentation on Antenna Stacking during the Louisiana Contest Club meeting & forum at the Rayne LA hamfest. Met John WE3C at LCC meeting. After discussion, now I'm not sure about mounting stacking relays up the tower. Decidedly undecided, again.
3/13/09 — Have begun checking inventory of antenna & parts to ensure all will be on hand to assemble and mount on the tower.
3/6/09 — Visited W5WMU where I spent four hours (midnight to 4am, 80m & 160m) operating in the ARRL DX SSB contest. My wife and I were on the way to New Orleans for a 5-day Carribean cruise. She even slept at W5WMU!
2/16/09 — Received from JefaTech 2,000 ft LMR400 type and 500 ft LMR400 flex coax. Have decided to install my 4 StackMatches in an enclosure on the tower just below the middle set of guys, roughly 75 ft up. This will allow the individual antenna feed lines from the StackMatches to be about 50′ long, instead of 120′. 11 times 70'= a good savings in both money and dB!